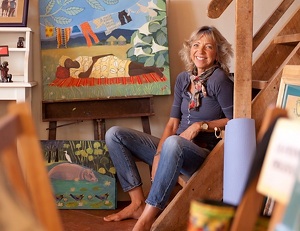 Julia grew up in Oxfordshire, England where she started her working career with horses, her first love. When she was 18 she got the travelling bug and travelled to many places, but it was during her travels in Kenya that she became inspired to paint, attracted by the colorful Maasai and their intriguing lifestyle and with whom she worked for several months. Travelling South to Botswana, Julia discovered a country that was to become home to her for 9 years and where she began her painting career in earnest. Living for many years in the Okavango Swamps, Julia painted the landscape and natural history, often perched in rustic dug out canoes or sitting on a sand bank keeping one eye open for crocodiles!
During her time in Botswana, Julia was commissioned to design four series of postage stamps for the country and was asked to paint a portrait of the then President, Dr. Quett Masire (not an overwhelming quantity of portrait painters in Botswana then!). Through observing the African people and the daily life there, Julia developed a more whimsical style of painting that has become somewhat of a trademark for her and enabled her to continue with her work when she came to the U.S.A.
In 1992, Julia married an American biologist, John Bulger, who had been working with baboons in the Okavango Delta. They came to live in Davis, CA where John could finish his studies, but it was a very difficult transition for Julia. There was not much to inspire her in this small college town, so she began painting the Africa she remembered and finding refuge in the bright colors and subject matter that were stored in her memory. The paintings became popular with the local Gallery and caught the eye of a Licensing Co. 'Alaska Momma' (now affiliated with Big Tent Entertainment). Since then, Julia's work has been licensed on jigsaw puzzles, mugs, calendars, fabric, shower curtains and many other products. Julia has more recently published her own cards and continues to publish giclee prints (see 'Prints' link) of her work.
The colorful, cheerful style that Julia has mastered lends itself perfectly to children's book illustration and thus far, she has illustrated nine books for children.
Julia and her family have moved from California to Canada and now to New Mexico, where they are happily living outside Santa Fe in the historical village of Galisteo. The light, colors and unique natural history of the area are compelling to both Julia and her husband and it is where they hope to be for some time to come.
A new book 'A Full Moon is Rising' has just been published (May 2011) by Lee and Low which Julia illustrated. It contains poems from around the world about the moon. So far it has had very good reviews and picked up a few awards.
In January of 2012, Julia travelled to Kerala, India, where she studied for her yoga teacher training certification at a small ashram. She was very inspired by the people and the spirituality that she encountered there and her recent paintings are a reflection of that special time.
Julia is not currently affiliated with any gallery but prefers to market her own work and take part in Open Studios which take place every year in Galisteo in mid October.
Julia welcomes people to visit her in her studio by appointment and is happy to supply you with a cup of English tea should you venture out to Galisteo. If you would like to contact Julia, you can do so via the'contact' link on this site. If you visit Santa Fe, be sure to eat at the famous Jambo Cafe, a delightful African restaurant that exhibits some of Julia's work. Julia also has representation in Davis CA and Chesterton IN.


Articles about the artist:

http://www.sfgate.com/cgi-bin/article.cgi?file=/c/a/2006/07/03/DDGERJNHU51.DTL