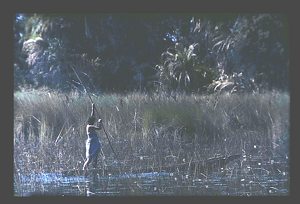 Botswana Calling #15 Smelling like Polecats 1983
The next day, I wandered about town again sketching. I had met an American girl called Beth who was working with the basket makers in Etsha and learning Mambakushu. Chris and I had tea with her, such a strange experience drinking from an earthenware mug and talking to a Westerner again!
That afternoon, a lorry was discovered going to Maun, and we made sure we were on it. Mungabe seemed upset that we were leaving so soon, but we needed to move on. The ride on the back of the lorry was amidst a crowd of other passengers, bed rolls, blankets, sacks of mealie meal and crates of coca cola to be delivered en route. The road was not tarred, and wound its way through the amber mopane trees, now rapidly losing their vivid green butterfly leaves. We licked our lips at the culinary sight of guinea fowl, which were unfortunately just out of range, despite constant hammering on the drivers roof by various travellers. We stopped in Gumare in the early evening, where Chris tried to track down an old friend of his who no longer appeared to live there. Music boomed from every angle and beers were bought from celubrious looking establishment backing on to what can only be described as and African 'pub'.
We arrived in Maun the following day and were to spend a week there which proved to be rather turbulent.
My friend Russell, on viewing us from the security of his landrover informed us that we smelled like a couple of Polecats!! Charming. I'm sure we did tho', and I was quite relieved to have a hot shower at crocodile camp. Chris stayed at Okavango lodge, which of course aroused Yoey's (the owner's ) curiosity. It was rather enjoyable at first, sitting at the bar, communicating with individuals who spoke the same language, eventually getting rather bibulous. Chris, it transpired, enjoyed drinking and being the centre of attention, which on a regular basis became tiresome and I felt the need to spend some time with other people. I suprised myself with my reaction to Chris' lack of finances (it had not been forwarded by his publisher as promised) and I seemed to lose a little respect almost instantly. Strange, as we had just spent two great months together. It was a little difficult being with a character who people seemed either to love or dislike intensely. The problem was, on retrospect, was that no one in Maun really knew Chris as I did. They saw him as merely an eccentric with romantic theories about lions, not as a person who simply looked at life differently to most.
It was at this stage I met up with Sally Barrow again. She had come to spend some time in the swamps with Chris and I. Unfortunately she too had listened to idle gossip and rumours re Chris and had been advised by her step-sister not to go anywhere with Chris. This of course did little to restore my confidence in Chris and I decided to split from him. Naturally he was very shocked and I hated doing such a thing but when there are 90 people telling you one thing and one attempting to prove you wrong, one is obviously swayed by the 90.
However, after much too-ing and fro-ing, talks, plans, and drinking, I thought that I would be extremely lucky to meet such a fellow as Chris again. I enjoyed his company and his lifestyle, and for once would do as my heart felt.
So, back to the swamps we went....this time on the back of a uni-mog belonging to 'Herman the German', who was going to do some camping with 4 other young chaps and Johnathon Bowles, complete with joint and personal stereo. He was exactly the same in the bush as in town - wearing an expression of perpetual lust.
Chris, Sally and I also had a 'hanger on' by the name of Tim - a supercillious chap from Capetown who was as impractical as Chris but well read.
Chris and I walked from Baboon camp to Twaralangwana, while Sally and Tim came up by mokorrow. Encountered a young buffallo or what remained, being scavenged by vultures and surrounded by lion spore.
Camp has been set up on the island North of Morotsi's village and its now been 6 weeks since we arrived. The going was tough at first, Chris getting increasingly annoyed with our 'girlie girl' fires and lack of bush experience.
Tim, it transpired proved even less experienced in the bush than Sal and I, altho' he gave Chris some stimulating intellectual conversation.
Life was slow, and i found myself disappearing in a whirlwind of activity, making shelves, chairs, tables and bookshelves for the camp. Sketching, painting, running and practicing with the mokorro we named 'Cleopatra'. Chris and Sally seemed happy to idle time away lying in the sun and reading, or talking about subjects already covered hundreds of times before. Feelings of guilt seem to grip me if I am not actively involved in something creative or constructive during the day. Shooting pigeons isnt exactly creative but quite necassary if a protein supply is to be secured. I've found my shooting ablilities have greatly improved. Green pigeons are perhaps the most ubiquitous edible birds in the swamp and are extremely tasty. Their call belies their position and they are hardly discreet, being of an illuminous green colour, with soft mauve wings and bright red beak. It almost seems a shame to shoot them. Finishing them off is the worst job of all, and I detest it. On being awoken by their incessant cooing, I usually get up early and shoot them from the tree which shelters our camp.Then I have the whole day to anticipate our dinner. Lovely.