Okavango Swamps, June 1983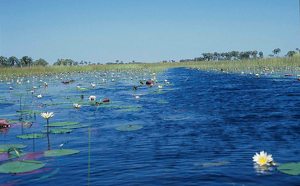 Chris, after a couple of weeks, mastered the mokoro and we have explored some of the islands surrounding the plain, up river. It's a tremendous, intrepid feeling wandering around these ancient islands which began life as nothing more than an ant hill and perhaps have never been visited by humans. Strangle figs in the process of suffocating the innocent motsaudi trees, slowly winding their vindictive way around unsuspecting hosts. Thick, dense undergrowth providing a perfect carpet for this perfectly perfect wilderness.
Often, we'd stalk duck on the plain when returning to camp. The fowl were easily spotted, as the water level was low, and the bright new errupting grass not yet tall enough to provide cover. The hunt would always be the main topic of conversation around the camp fire that night and the quarry entered in our bird book.
My senses are developing keenly, as the tranquility allows one to recover all ones natural defenses and responses. Every sound, every sight, is as it should be. Nothing is out of place or alien - it is correct and I doubt nothing while living here.
Painting in such a place has always been my dream. I am in paradise when I sit amidst such breathtaking utopian splendour, gazing into the distance, then transferring all I see on to the canvas. I feel I am improving steadily, altho' now, after three months of landscape painting, I feel ready to paint more animated subjects.
Janice, Sally's stepsister, who has visited us twice now, took all my best work in lieu of securing my residence/research permit, which in fact I achieved myself! I actually became very depressed when I realised she had taken the best pieces, and I wondered how hard it would be to part with other work. This, I suppose, illuminates the reason why I want so much to become a good artist - simply because it is what I want to do, and not just a means of existence.
Naturally with three people living so closely, conflicts arise, and when one of them is as quick tempered as Chris, they are inevitable. He and I have regular arguments. He seems to change so quickly from being a 'seemingly' caring and loving soul, to a Hyde character who flares up and uses foul, abusive language, often over trivia. I know I am not all that easy to live with, but I can recognise a good man when I see one. Unfortunately Chris is only temporarily so, and I don't think I could ever fully trust him. The problem is that he loves to teach/boss/instruct constantly, and I find myself recoiling from his demanding, supercilious tone. Sally is rather more subservient towards him, and he greatly enjoys playing us off against eachother. I have never lived with such a character before, so do not know quite what to do after his outbursts. I try to patch up our quarrels quickly, to avoid at least 24 hrs of hollow silence. I do think I realize what sort of person he is tho', or rather 'people'.
This place has besotted me, rather more than the man I feel, so must be wary of staying here for the wrong reasons.
It's been a month since Sally and I visited Maun. I believe I'm missing other people now and find myself longing for a party! Music was bestowed upon us briefly by Map, who came to visit from Xaxaba camp and brought his casette player with him. The sound was so remarkable after all this time. I danced around like a crazed thing, completely uninhibited.
June 28th
We have now moved camp to Gubinare, a large island, first explored with Andy, George and Mike. Having first come simply to camp and see game, Chris got quite carried away and we moved from Tswaralangwana immediately. Our good friends, Kioroletswe and Maturu joined the party and helped move a few vital elements from Ts. to Gubinare. Sally and I helped Maturu gather the now shrivelled morulla;s which she hacks away at with an axe in order to extract the nut which apparently is full of vitamins. Another of Horelwa's children, a young girl by the name of Natallila accompanied Maturu. It was so good to have a child around, smiling and laughing so readily.
With Chris and Kioroletswe's return, came Anthony, Sally's cousin from UK, plus a lady called Julia, and an Irish Dr. with his Australian girlfriend. There was quite a throng around our new camp that first night. Anthony and Chris amused eachother with cheeky tales of public school days. Julia, a rather typical 'sloane ranger' made regular snide remarks throughout and I took an instant dislike to her. Luckily they only stayed for one night, which was more than enough for me!
Gubinare is a far more interesting island that Tswaralangwana with a large diversity of wildlife. Our camp is covered in spore of every kind and there is an expanse of soft green grass that runs out beyond the Motsaudi tree that is our roof.
Unfortunately, the trees are not so obliging in forming shelves for the few remaining tins, herbs, yeast etc that we have, so they are all stored in cardboard boxes. Not very aesthetically pleasing I must say. A great deal of exploring followed as the island stretches to the hippo lagoon, explored previously and beyond, totaling about 5 km. Chris lead the way on each expedition, with Sally and I following obediently behind. Immediately an animal was sighted, Sal swung into action with her camera. The animals we saw… Lechwe, impala, warthog, tsessebee, kudu, buffalo, all appeared very relaxed upon our approach, maybe because they had never seen humans before and didn't know the dangers. The warthog, I find the most comical of all the animals with their brisk, unorthodox movements, taking off with their tails in the air as if it were their nose.
My favourite area on the island is the plain, which stretches the entire 5km, flanked on either side by dense woodland. For me, this is Africa, space, sky and the promise of wild herds in the distance. All is wild and honest.
Of course it can be hostile at times, as the three of us found out. It was a truly uncomfortable night….