1983 Okavango Delta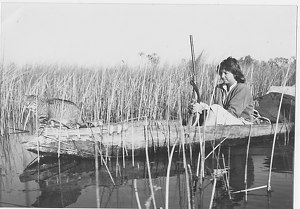 At 1.15pm, Biggles, Sally and I boarded our vessels to start the three day trip to Maun. We both sighed with relief on leaving the bibulous island of Delta.
After a few calls on friends along the way; the Wildlife dept and Xaxaba camp, we made camp on an island ensconced by palms. Frisco and Cisco disappeared immediately in order to rig up their fishing nets, while Sally and I got cracking on the bacon and eggs, supplied by a kind donor at Xaxaba. I think if I miss anything in the bush then it must be bacon and eggs.
When our tummy's could take no more, we retired to our sleeping bags, leaving the lads to eat their food in peace.
The following two days passed without incident of any great import. Sally reclining in her bikini, enjoying the tranquility of it all, and myself, being myself, ie very jumpy, tried to accept the unavoidable position of lassitude by reading and ocassionaly retrieving Biggles from her numerous kamakazi missions into the river!
The second night, we camped at an obviously well used mokoro island which unfortunately was infested with fleas. Biggles was driven to despair, as were we all. The mosquito's (pom poms) were also ubiquitous so we got no sleep that night. Progress was slow the following day, as F and C disappeared for an hour or so to set more nets. Sally and I strode around the island in search of green pigeons, but missed every one we aimed at. About mid-day, for some reason, we got split up. Cisco insisted on taking one route while Frisco and I went the other. The reason for this eluded me. Repeatedly I asked Frisco where Sally was, to which he replied that they were still in the vicinity of an area that encompassed the whole of his wildly flaying arm. Now was not the time to practice my limited knowledge of Tswana, so I just sat tight while Frisco poled with his head constantly looking in the direction of the invisible Cisco. One hour later, after almost grounding the mokoro in very shallow water, we emerged at the main channel. Sally and Cisco were of course nowhere to be seen, so we waited with a man who was busy making a mokoro on the river bank. He had a happy, honest face, which beamed proudly as we touched shore. Biggles leaped on to dry land as soon as we hit the bank, only to find the mans dog waiting close by with a culinary look in his eye. Being the tough little feline she was, she ignored such threats and continued looking for a suitable powder room.
Trying to get any information from the smiley man was like trying to nail jelly to the ceiling. Patience not being one of my virtues, I told Frisco that we must pole on incase the other mokoro had passed already.
Poling past cattle and goats was rather tame after living amidst the Lechwe and impala that were so plentiful farther north. Since the Tse Tse fly are being eradicated, the cattle will move farther in to the swamps. So sad that they are destroying the beauty of the Okavango, which hangs in the balance, a fine line between flourishing wildlife and over-grazing.
We stopped when my conscience got the better of me. Perhaps Sally and Cisco had not yet come down? Visions of search parties and frantic relatives filled my head. I couldn't possibly arrive in Maun without Sally. Frisco and I made some tea amidst the cattle droppings and began waiting in earnest. An hour later, the lost was found and Cisco and Sally rolled up to the island. Sally jumped into the food box immediately, claiming she had just carried the mokor over patches of sand, and was totally exhausted. Tea was applied to the affected areas and yet again we waited while F and C went off in search of their long lost sister! They returned later complete with a basket of meat and a jug of milk.
Further down the river, we came across an African who spoke a little English… Eureka! He informed us that we could probably make Maun by that very evening. Not a chance, as the lads immediately slowed down a couple of gears, worried that a days work would be lost should they arrive by evening.
But we arrived, and thus begun a painful period of time for me in the den of iniquity that was Maun…